As you grow up, you're certainly going to know your problems are unique. Some people will try to convince you that "I've been there before" or "I know exactly what you're going through." I'll be one of those people, so don't give me a hard time about it, because I know better. Your problems and experiences are, unequivocally, your own. I cannot fully comprehend what you're going through, but I can sympathize. Especially when it comes to girls.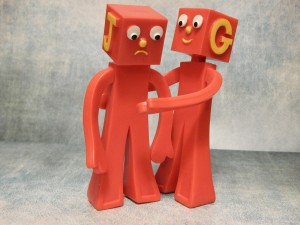 Adults are capable of experiencing heartache, much like the younger generation. When I was a kid I was so in love with one girl in my elementary school class. I was convinced it was forever, except she never really talked to me. That was a problem. But it didn't stop me from feeling it, son. I was certain, as you will be. It will probably happen often enough, too. But that doesn't make you wrong for feeling that way, it's actually a pretty wonderful feeling, when you can get it. The desperation of feeling so hopelessly bound to someone else. But it can cause a lot of problems as well.
Just don't dwell for too long on unrequited love. It will burn your insides, you won't be able to feel the same thing anymore. It ages you quickly and makes you callous and cold. Appreciate the feeling until it turns toxic.
It takes practice, being able to turn off the feelings of love once they've begun; and the practice can take it's own tolls. But it's necessary because not everyone can reciprocate your feelings. But when they do… It can be the greatest singular moment in your life, even if it's fleeting.
I'm pretty much a normal person—I am your dad, and you'll never really see me as anything but, but it's true. I have experience love and loss, desperation and heartache. It came early in life for me, and it continues to be a condition that I am unfortunately subject to, like everyone else, even at 31. (I'll have you know, I have heard on good authority that 30s are the new 20s)
I was raised in a very different way than you are now—we'll have plenty of time to explore the differences, but let's just say I am way cooler than your
grandparents, and that's on my own authority. Once of the differences I was told as a child was "there is a perfect woman out there, waiting for you, Aaron." The truth is, no one is perfect for anyone. There are millions of women that I could maintain a functioning relationship with, given the right set of circumstances. I would argue there are at least thousands of women that I could be desperately in love with (flip through the most current issue of The Sports Illustrated Swimsuit Edition and you'll see around two dozen of them). But something must create the initial, and most importantly, mutual spark.
Even then, the mutual spark can lead you astray. But that's the true enjoyment of life, never knowing what's coming.
You just cannot let it get to you. Not because there is someone special, just waiting for you to find them. But because you owe it to yourself to remain positive, to live a happy, fulfilling life. You cannot live a happy, fulfilling life if you are beaten down, morose, tired, or bitter. Every single day is a new adventure, a new opportunity to make an life-long memory. It can include someone special, or maybe you just had the most giant, perfectly tuned fart of all time. But you can't let the heavy things get in the way of the light things.
Focus on being yourself, being happy with yourself. Focus on being motivated. Be energetic. Be happy. Once you accomplish all those things, then tell me how you did it, so I can do it too.